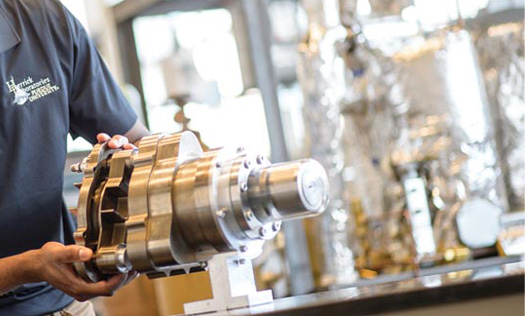 Mechanical Engineering envisages the development, design, manufacturing and maintenance of machinery. The present age demands Mechanical Engineering specialists who have the capacity of adaptability and creativity in the new technical areas.
Mechanical Engineers should have knowledge not only in their own specialized fields but also in wide interdisciplinary fields as well. To meet the above requirements Mechanical Engineering department offers the Polytechnic Diploma Course in same.
The engineering field requires an understanding of core concepts including mechanics, kinematics, thermodynamics, materials science, and structural analysis.
Mechanical engineers use these core principles along with tools like computer-aided engineering and product lifecycle management to design and analyze manufacturing plants, industrial equipment and machinery, heating and cooling systems, transport systems, aircraft, watercraft, robotics, medical devices and more. .
It also overlaps with aerospace engineering, metallurgical engineering, civil engineering, electrical engineering, manufacturing engineering, chemical engineering, industrial engineering, and other engineering disciplines to varying amounts.
Mechanical engineers may also work in the field of biomedical engineering, specifically with biomechanics, transport phenomena, biomechatronics, bionanotechnology, and modeling of biological systems.
Fields of employment: Manufacturing, Maintenance, Govt. Sector Jobs, Railway, RSEB, etc.
Competencies: Technical knowledge, management skills, design.
Job duties: Mechanical engineers typically do the following:
Analyze problems to see how mechanical and thermal devices might help solve the problem.
Design or redesign mechanical and thermal devices using analysis and computer-aided design.
Develop and test prototypes of devices they design.
Analyze the test results and change the design as needed.
Oversee the manufacturing process for the device.

Placements provide the students and different colleges to get directly into the organization. During this process, we train our students,
US Ostwal Institute Of Technology And Science
Toll Plaza , N.H. 76 , Udaipur Road Mangalwad
Distt. Chittorgarh 312024 (Raj).
Contact No.: +91-9116618994, +91-7340010512